www.ibreviary.com
Copyrights
Copyrights 2008 - 2010 Dimitri Giani e Paolo Padrini
Creator: Paolo Padrini
Developer: Dimitri Giani
www.dimix.it
Techical support: Netguru s.r.l. (Italy)
www.netguru.it
Graphics: Lamorfalab s.r.l. (Italy)
www.lamorfalab.it
Per i testi biblici, la traduzione italiana e latina del
Lezionario, i testi tratti dal Messale Romano, i testi tratti dal Breviario Romano:
- Fondazione di Religione Santi Francesco d'Assisi e Caterina da Siena
- Conferenza Episcopale Italiana
- Libreria Editrice Vaticana
- Amministrazione del Patrimonio della Sede Apostolica (APSA)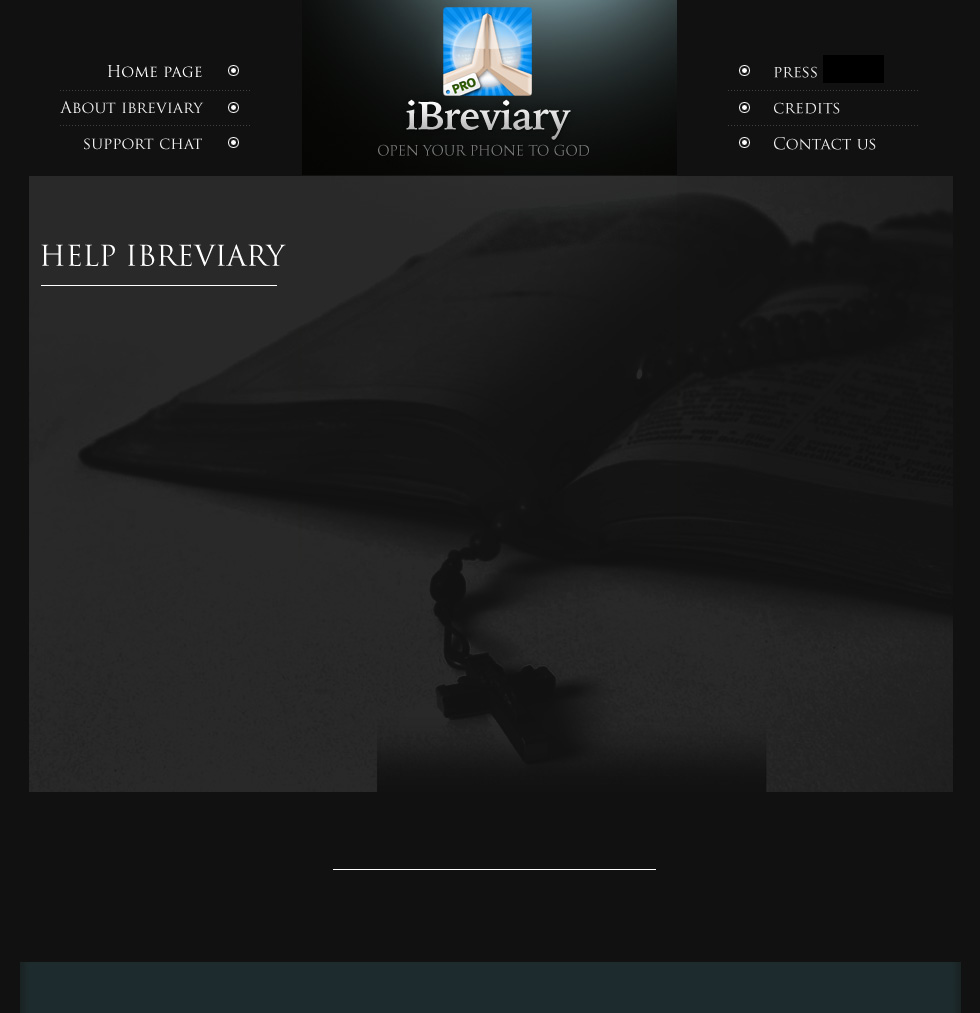 Lectionary for Mass for Use in the Dioceses of the United States, second typical edition, Copyright © 2001, 1998, 1997, 1986, 1970 Confraternity of Christian Doctrine; Psalm refrain © 1968, 1981, 1997, International Committee on English in the Liturgy, Inc.
Copyright © 1963, The Grail, England
GIA Publications, Inc., exclusive North American agent,
7404 S. Mason Ave., Chicago, IL 60638
www.giamusic.com 800.442.1358
All rights reserved. Used by permission.
Textes liturgiques, Liturgie des Heures: Association épiscopale liturgique francophone (AELF), 58, avenue de Breteuil, 75007 Paris
Liturgia de las Horas, Misal, textos liturgicos: © Copyright, Conferencia Episcopal Española
Thanks to Gianfranco Falgari, Giovanni Ronzoni, Hadi Tan, and more other firends.